Page 1
Page 2
Page 3
Page 4
Page 5
Page 6

How to Monitor for mites
You should check or carry out a mite drop survey at least four times a year. This should be done in early spring, after the spring honey flow, at the time of the honey harvest and again in the autumn.
Whichever treatment you use always use a varroa mesh floor with a sampling tray, you can use the tray for carrying out a mite count, the mites will fall off the bees through the mesh onto the tray where you can carry out an accurate mite count to check for infestation.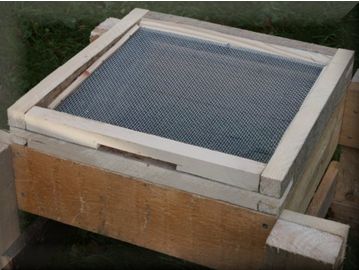 A Varroa mesh floor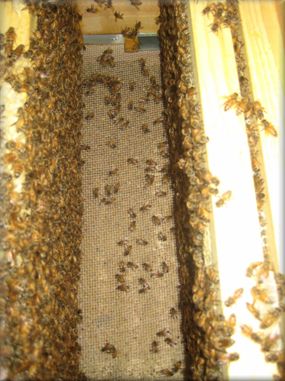 A Varroa mesh floor, when looking down through the frames
Mite Drop Count - A measure of Natural Mortality
Scientific research carried out in the UK suggests that the colony risks collapsing if the mite count exceeds:

Winter/Spring = 0.5 mites
May = 6 mites
June = 10 mites
July = 16 mites
August = 33 mites
September = 20 mites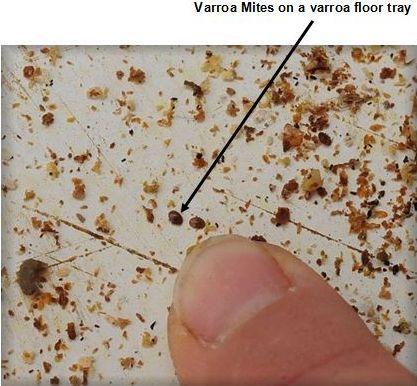 The Aim of Varroa Control
The aim of all good beekeepers is to keep the mite population below the level that is likely to do harm to the colony, reduce the risk of bee?s diseases, reduce the risk of colonies collapsing and to maintain healthy strong colonies of bees.
The more mites that are left behind the quicker they will build up to harmful levels, with 80% efficiency the danger level of 1,000 mites is reached again in 65 days and with 90% in 100 days.
A healthy bee
Varroa Control Methods
The types of controls can be divided into two main categories:
Biotechnical: Using bee-husbandry through physical means i.e. trapping the mite and then destroying it

and
Varroacides: Using chemicals or fumigants.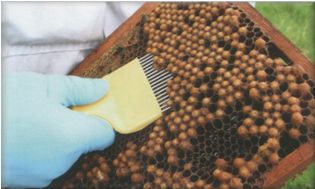 Removing Drone Brood (Biotechnical)
To continue to Page 4, please click here...