Page 1
Page 2
Page 3
Page 4
Page 5
Page 6

Biotechnical Methods
Drone Brood Removal:
You can promote drone laying, by either using drone foundation, scoring drawn comb or other methods. Before the drone bees emerge from the cells, remove and destroy them, you will see the mites attached to the pupa.
This procedure can be carried out several times throughout the year but can be very time consuming. Although a useful method it has limited efficacy.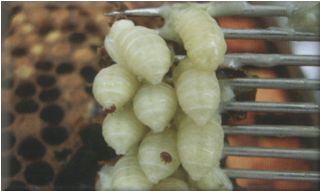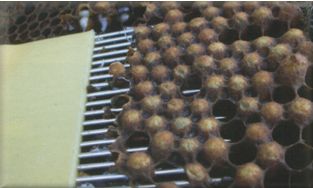 Drone Pupa with mites (to left) and removing Drone Brood (to right)
Comb Trapping:
Cage the queen for 9 days on three combs in succession, these then remain in the colony for a further 9 days while the Varroa enter the brood cells. The combs containing trapped mites in sealed brood are then removed and destroyed.
This method is very time consuming and requires good beekeeping skills. Timing is crucial in this method and you can weaken the colony if not done correctly.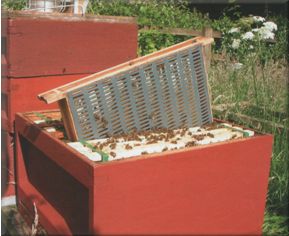 Brood box with a comb trap fitted
Artificial Swarm:
Move the parent colony at least 4 metres away from its original position, put a second hive and the queen in the original place and allow for foragers to return creating an artificial swarm.
After 9 days remove all but one queen cell from the parent hive, leave the virgin queen in a queen cage so she canít mate but can be cared for. After 3 weeks all the brood in the parent hive will have hatched, then transfer two bait combs of unsealed brood into the parent hive.
Once the brood is capped, remove and destroy them. Cull the queen and introduce a new queen to the parent colony, the old queen in the swarm can later be removed and the two colonies reunited
This method is only suitable during the swarming seasons and you run a high risk of the bees absconding. For more detailed information, please see the article on artificial swarming by clicking here...
Mesh Floor:
Fit a mesh-monitoring floor (without a collection tray) to the hive under the brood box, most of the mites when falling from the colony are alive and will pass through the mesh floor to perish on the ground under the hive.
This is a good and successful method when used with other control methods.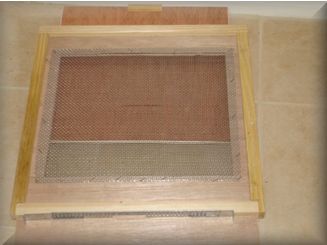 An open mesh floor with a removable tray
To continue to Page 5, please click here...